Trekking
You can ask for a private ride !
Discovery trekking : 1 hour :
 For begginers riders with kids, go for one hour with a walking pace. Visit the beautiful countryland…
25 €/adult or teenager rider
20 €/ child 6 to 10 years old
> 150 € Private ride for 1 to 4 riders
Beginners : 1h30 min
Begin horse riding with calm :
– 30 minutes on the arena to learn how control your horse
– then 1 hour on the trails for a beautiful trekking next to the river or in countriside
35 €/rider
30 €/ child 7 to 10 years old
> 199 € Private ride for 1 to 4 riders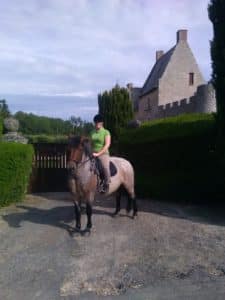 Pleasure trekking : 2 hours
Discover private castles, amazing views… for begginners or great riders, we do differents departures in differents ride levels. If you come in group, we will ajust with the lowest level to keep every rider safe !
43 €/ beginner rider
45 €/ experienced rider
35 €/ child 9 to 10 years old
> 240 € Private ride for 1 to 4 riders
Touraine trekking : 3 hours
For great riders only. Discover more and faster of our beautiful countryside. We can explain you the story of the medieval castles, of the famous wines…
60 €/ experienced rider (adult or teenager from 16 years old)
> 330 € Private ride for 1 to 4 riders
Full day trekking :

Wine tasting and castles, in the middle of Loire Valley

We meet at 9 :30 a.m around a coffee, to know each other. After prepare horses, we leave at 10 a.m. Riding in the middle of countryside, between forest and rivers on the morning. Really typial from our area. For the lunch, we arrive in a beautiful cave, for a wine tasting, and they speak a perfect english. We have lunch at the cave, made by home, with typical french meals. We eat at table, and the wine is inclued.
On the afternoon, we go by apple trees fields and private castles. We arrive at the stable at 6 p.m, after a beautiful day.

Price : 110 €/person in a group (lunch and wine tasting inclued)
660 € private ride for 1 to 4 riders