Trekking for children and teenagers
Discovery young kids – 1 hour – 25 €/enfant

One hour of discovery with brushing and trekking for 30 minutes, with a memeber of our team ! Parents are welcome but you can stay at the equestrian center if you prefer !
For kids to 2 and half to 8 years old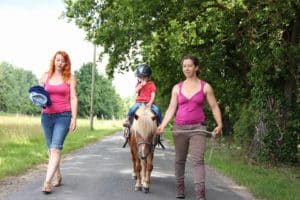 "A moment in family" For parents et children under 10 years old 45 €/adulte/adolescent et 35 €/ child in group, 85 €/adult and 65 €/child in private ride

You want ta share a good experience in family, and meet ponies and horses ? We offer you 2 hours for understanding and sharing. Together, we learn how to communicate with horses, take care of him. We leave for a beautiful ride in countryside, with an instructor, for a safe and cool ride. Then we bring them to the fiield after a time together !
For families with adults or teenagers with children from 6 to 10 years old.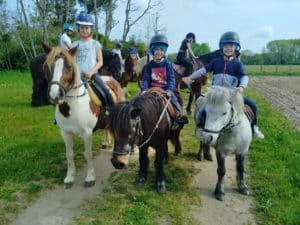 Half Day "Rendez Vous with horses" For beginners riders  95 € in group, 145 € in Private ride

You want to share a moment of trust, serenity in a rendez vous with horses and yourself ? We offer you a half day of 3 hours, in small group or private ride of 2 riders (or more if you want to private the ride for all your family). This moment will be dedicated to understanding each other and sharing trust with a beautiful hors. Together, we catch horses on the field, we take care of him. When you have the connection with the horse, we teach you how to ride in an arena then with leave for a beautiful trekking in countryside, to see private chateaux or Loire river. After the ride, we take care of horses and we bring them on field we a big smile and dreams in head !
Private ride if for 2 riders minimum, the ride if for teenagers from 11 and adults